A Week in A Top Instagram Destination: Tulum, Mexico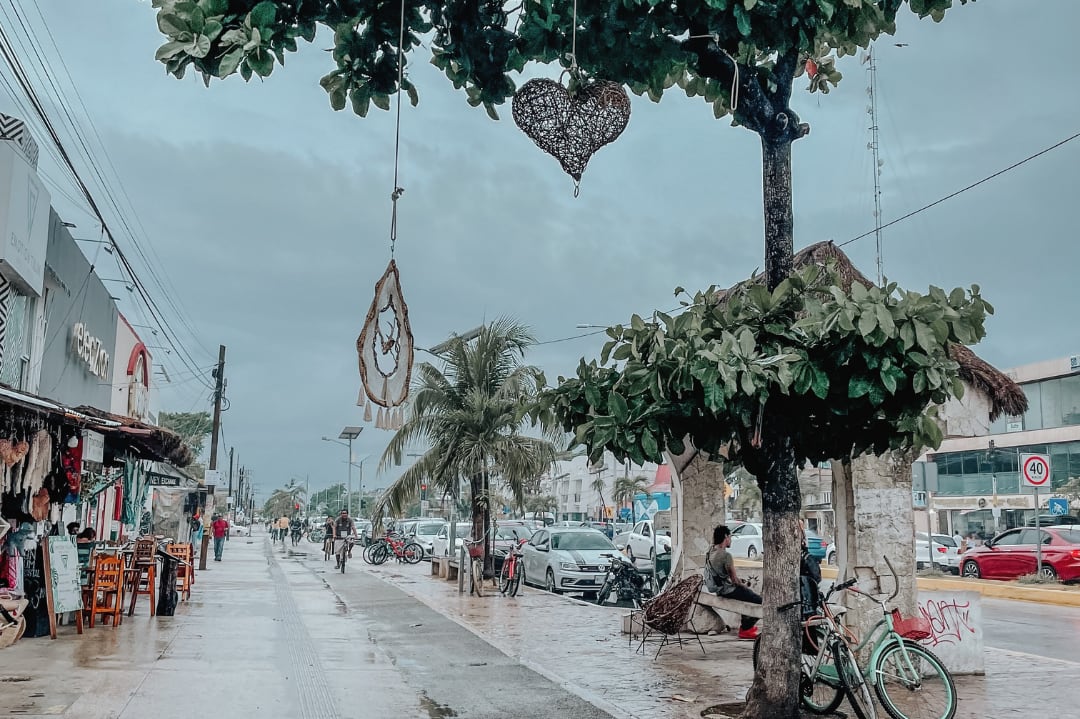 Tulum, Mexico – Credit: Danielle Sorto
Tulum has been at the top of many influencers' travel destinations and it's no surprise why! Crystal clear water, beautiful woven hearts hung decoratively around the city, fresh food, and lush nature around every corner. When you're here, the rest of the world fades away as you step into a dream that lasts longer than a single night.
Prepping:
You can typically exchange your money to pesos before going or upon arrival outside of the airport. Be prepared for hot and muggy weather, so pack accordingly! There is no set dress code in Tulum. Everyone is accepted no matter your attire, but loose cool clothing is highly recommended. Pack sunscreen and your passport!
Arrival to Cancun Airport:
Majority of visitors arrive at the Cancun airport and are greeted by Margaritas and taxi drivers galore. Make sure you have transportation booked ahead of time, whether it's renting a car or taking the ADO bus to Tulum. This bus ride is the most common and easy transportation since it's only about 260 pesos (approx USD$14) each way. It's anywhere from one hour and a half to two-hour drives. If you hit any traffic, prepare for snacks available for purchase to be walked up and down the lane while you wait in traffic.
Arriving in Tulum:
Upon arriving in Tulum, the entire atmosphere shifts to a dream destination. You'll see a melting pot of culture and people. Street vendors selling everything from macrame to elote line the road scattered between the restaurants and shops. One thing you'll learn quickly is that pedestrians do not have the right of way. The cars have priority! So look both ways a few times before crossing any streets.
Accommodations:
Like anywhere in the world, Tulum has a broad selection of AirBnb's, Hotels, and Hostels available to stay at. Prices range based on locations and amenities. They start at $8 a night for a bunk in a hostel and can range up to $700 a night at a hotel (looking at you, Azulik Hotel). Some great options are Selina Tulum which can average about $40/night and it beautiful and in a convenient location. If you prefer more privacy, you can always book a stay at the beautiful Sunscape Akumal Beach Resort & Spa for $130/night. If you have a larger budget and you want the Instagram worthy pictures, book a stay at the Azulik. Off season, you can get a room for $500/night.
Dream Stay Begins:
Prepare to have an easy day. After a flight, long drive, and getting into your accommodations, you're probably going to start feeling a little weary. No worries! You won't miss out on anything by taking a day easy. Grab a drink and pick a hammock at any beach club, like Paradise Beach, and sleep to the sound of waves and the smell of delicious tacos.
Cenotes, Lagoon:
Are you in Tulum when sargassum season is in full effect? Missing that crystal clear water you've seen all over social media? Have no fear – cenotes are clear! While beaches are nice and beautiful, there's something about swimming underground or in caves in crystal clear water. Have you ever heard or experienced a pedicure where the little fish are in the water with your feet? Well, at some cenotes, you can swim completely immersed in them! You might feel a bite or two, but don't stress. It's like a free exfoliator included in your visit!
You can't really go wrong with any of the cenotes, but if you go to the most popular ones (Gran Cenote, Cenotes Casa Tortuga, Cenote Zacil-Ha), make sure to go early if you don't like crowds. Love to mingle and have music vibing in the background while jumping into a cenote through a hole in the ground? Go in the afternoon to Cenote las Calaveras.
Cenotes getting too crowded and you want some more space to relax? Drive 15 minutes to Kaan Luum Lagoon and see the beautiful aqua blue colors. Take a nap in a hammock in the water, or swing on one of the three swing sets in the water.
Pictures:
What good is a hot Instagram destination without Instagrammable pictures?! There are great photo spots literally everywhere you turn in Tulum. Whether in Central Tulum (small city vibes) or Tulum Beach (beach lined strip of hotels, extravagant restaurants, and adorable boutiques), you can easily strike a pose and have a picture worthy of any social media platform. There are woven hearts hanging all over the city center and the beach side. It's not a trip to Tulum unless you snag a shot with Escultra "Ven a la Luz". She's the gorgeous woman with nature bursting from her heart. The line is typically long no matter the time of day, so try to get there early in the day.
In addition to that, there's a very photo-friendly museum called SFER IK. Ever dreamt of staying at a hotel like Azulik, but don't want to share a bathroom with the other guests who are all paying $700 a night like you would? Check out the museum that features the same architecture and all the same photogenic spots without the price tag.
Food:
It doesn't matter where in Mexico you go, if you go anywhere, you're going to find phenomenal food. If you prefer a more authentic experience with food, perusing through the street vendors that set up in the evening behind the municipal building in Central Tulum will satisfy your every craving. You'll find amazing food including tacos, elote, crepes, quesadillas, and tortas!
Want a restaurant? Most restaurants in Central Tulum don't have wait times and you can usually walk up to sit down in a swing that becomes your chair for the night and chat with the bartender. Prefer a restaurant with a lively vibe? Check out the restaurants on the strip at Tulum Beach. Make sure you make reservations as wait times can be up to 3 hours and some places only accept reservations. Most importantly, make sure to eat your weights worth of churros while you're there! And don't worry, if your stomach is sensitive or you drink too much of the water on accident, there are Farmacias on every corner in Tulum. Run in and grab some medicine to get you back up and in action.
Night Life:
Want to combine the night life with dinner? Tulum Beach has mastered this. Walking along the main road, you will hear music until the early morning hours. You'll see dreamy romantic dim lit restaurants lined up. Each one with their own unique atmosphere. There are treehouses with live saxophone music playing (Kin Toh), jungles (Gitanos), and some that are just open air with torches used for lighting and music blaring for the entire city to vibe with (RosaNegra Tulum)
Una can help turn an Instagram destination like Tulum into a perfectly planned trip for you!