A One-Week Trip in Atlanta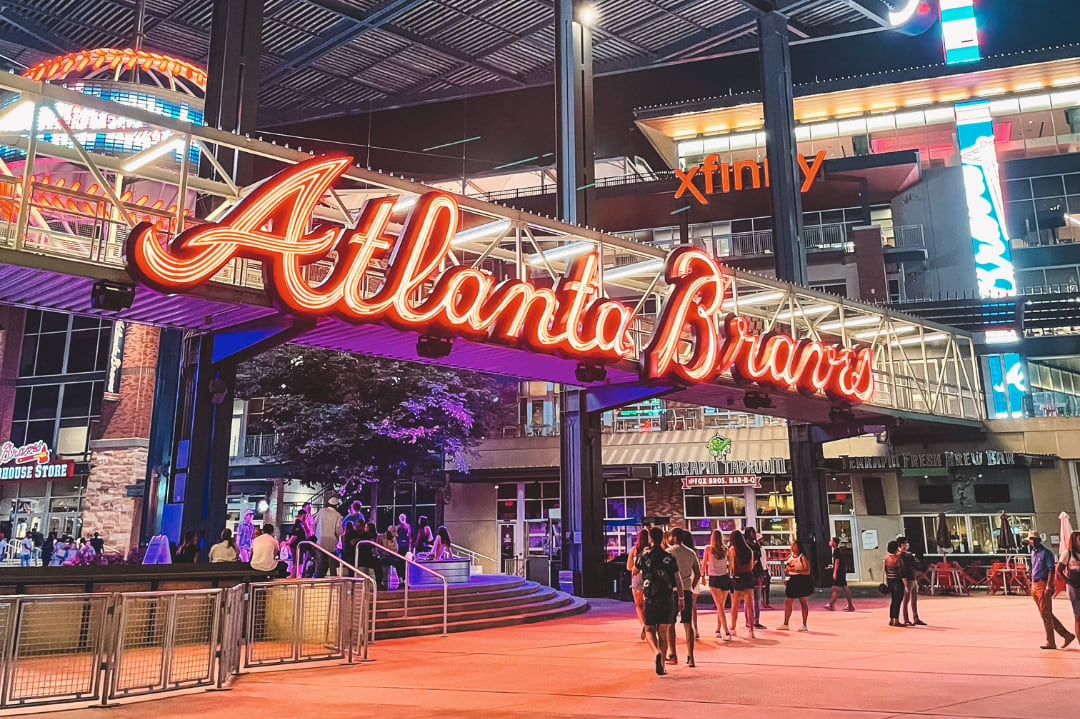 Atlanta, Georgia – Credit: Danielle Sorto
While Atlanta represents one of the largest cities in the south and always ranks #1 in busiest airports in the US, it's also a huge melting pot of culture. When you go to Atlanta, you can try something from all around the world in just one city!
Prepping:
Atlanta is great for a getaway without costing a ton of money. With a wide variety of activities, make sure you pack for different things you're interested in doing. Whether it's water activities, pictures, sports game, or fulfilling foodie desires. A good pair of shoes and clothes that are cooling are a must. Fashion is all over the place, and in a good way! Always wanted to try a crazy outfit and see if you can pull it off? Atlanta is the place to work it! Always remember bug spray and sunscreen as well.
Arrival to Atlanta Airport:
Atlanta airport being the busiest one in the US can be intimidating, but the way it's laid out makes it as simple as possible. As soon as you deplane, you'll see a lot of signs indicating where the baggage claim is. The baggage claim is also where you'll exit. Following the signs after deplaning, you'll go down a long escalator (there's elevators as well for those who need them!). After getting off the escalator, you'll hop onto the Plane Train. It comes every few minutes, so don't worry if you don't miss it. Hop on the train and ride on until you arrive at baggage claim! Getting a ride and need to know which terminal you're in? If you're flying domestic (within the US), just know that Delta owns the entire Terminal South. So, if you're flying Delta, your terminal is South. All other airlines are on the North terminal.
Arriving in Atlanta:
Upon arriving in Atlanta, if going during May-October, you'll be met with heat and humidity. Going any other month, grab a sweater or sweatshirt because it'll be windy when exiting the airport. After exiting, you'll leave the airport and more than likely will drive through downtown to get to your accommodation. Take in the skyscrapers and million cranes that are always floating around.
Accommodations:
Like anywhere in the world, Atlanta has a large selection of accommodations. While hostels in the US aren't as great as most outside of the states are, there are some fairly priced locations in the city. You can pick between vacation rentals such as homes or condos, or you can stick with hotels which are the most common accommodation in Atlanta. While there are plenty of options for hotel stays in Atlanta, some of the favorites are Hotel Indigo in Midtown Atlanta, Canopy Atlanta Midtown, and Clermont Hotel. Want a more homey feel and don't want the hotel prices? Home vacation rentals are all around the city! Make sure to check the reviews for recommendations for others who've stayed in the homes before.
Dream Stay Begins:
Upon arrival, you may want to check-in, drop your bags off and freshen up after your flight. Grab a drink at any of the hotel bars to begin your getaway in Atlanta. Want to do some shopping to prep for the nights out on the city? Check out Atlantic Station! Want an easy night after traveling? Catch a movie at the theater in Atlanta Station after shopping.
Pictures:
Atlanta has every photo opportunity you can think of. Love taking selfies? They even have a selfie museum where you can take selfies in unique decorated booths. They won't disappoint. Want the picture-perfect background of the Atlanta skyline? You can choose between the Jackson Street bridge which is famous for where most Atlanta skyline pictures come from, or Piedmont Park on the soccer fields. It gives a perfect backdrop for skyline pictures. Want to level up your pictures? Go around golden hour! 8-8:30p in the summer time and 6:30-7:00p during colder months.
Food:
Food is something you'll never have enough time for in Atlanta. Whether you want to try the traditional southern food at Mary Mac's Tea Room where the tea is sweeter than any southern hospitality could be or trying something new like Poor Calvin's for some delicious seafood. There is an abundance of options. Check the UNA app for recommendations and pick your favorite food spots.
Try something new at least once a day! In the mood for BBQ? Check out Fox Brothers BBQ on Krog Street. Want to dress up and get drinks? Check out The Garden Room. Make sure you make reservations for this one as they book out weeks in advance and reservations are required. Want a great burger with some crazy styles? Check out the Vortex in Midtown or in Little 5 Points. Craving brunch and want some chicken and waffles? Be prepared to stand in line at Atlanta Breakfast Club! (Psst..you can join the waitlist on Yelp to cut down on your wait time!).
Ready for some drinks at a hidden speakeasy? Ask the concierge at your hotel for the secret code and head to The Red Phonebooth (dress code enforced). Want a romantic restaurant with an amazing curated menu? Don't miss Two Urban Licks and try the Salmon Chips! Pizza is a must wherever you go. Want some great pizza? Try out Fellini's Pizza! They have locations all around the city, so search for the one closest to your location!
Sights:
Besides food, there is no lack of interesting sights to see and things to do in Atlanta. One of the coolest things about Atlanta is there's a huge film industry there! Spend a day touring different places where movies and TV shows were filmed. Tyler Perry fan? Check out Tyler Perry Studios! Hunger Games fan? Check out the Swan house to see where they filmed President Snow's office. Walking Dead fan? Drive down to take a full tour of the entire Walking Dead town!
Just like an infomercial, here's where we insert a "But wait, there's more!". Want to drive fast cars or test out a new Porsche? Head to the Porsche Experience Center. Georgia Aquarium is one of the top rated aquariums in the US. They have whale sharks, penguins, puffins, dolphins, sharks and other fish galore! They have spider crabs the size of your suitcase.
Did you know that Atlanta is also known as a "city in the forest"? That's because there's nature just about everywhere! Right in midtown Atlanta, there's a huge park that is over 180 acres. If you don't know, basically it's huge! You can pack a picnic or grab some food to go and throw a blanket down, throw a frisbee around, or just take in the view. In Piedmont Park, there's Atlanta Botanical Gardens which is a gorgeous sight to see with the seasonal installments they include each time.
Are you more into the spiritual side of things? Make sure to check out the Historic Oakland Cemetery. You can also check out Little Five Points that has quite a few voodoo sorcerers, psychics, and artists lining the sidewalks with their works. Or depending on which spiritual side of things you prefer, with Atlanta being in Georgia which is a part of the "Bible Belt", you'll find a church on pretty much every corner and some are gorgeous to visit.
Want more family friendly options? Taste all the flavors of Coca-Cola at the World of Coke! Then when you're done there, walk over to the Skyview and see Atlanta from above all the buildings! The best time is at night so you can see all the lights of the city and the moon overhead.
Family or friends, either would enjoy a great Escape Room! Check out The Escape Game at The Battery or Mastermind Escape Rooms. Both offer extremely fun rooms to try out.
One of the great things in Atlanta is the art. Whether it's hanging in the High Museum of Art, or along the walls of the Krog Street Tunnel, you will see every type of art and experience people's emotions visibly.
Night Life:
Night life is another great thing about Atlanta. While the whole city may not stay awake, you can always find somewhere open to spend your night in Atlanta. Buckhead has some great bars if you're interested in bar hopping. Want to drink while bowling in a speakeasy vibe? Check out Painted Pin or Painted Duck for an upscale, adult only experience. Check out the Trap Music Museum for a special museum tour with drinks included after dark! Looking to have some retro fun? Joystick Gamebar is a great stop to test your Mortal Kombat skills and see if they're as good as they used to be.
Craving Korean food? Make sure to eat at Iron Age for all you can eat meats and sides! With your favorite K-Pop music blaring around you, take shots of soju with your friends to prepare for the rest of the night! In the mood for dancing and clubbing? Salsa into Havana Club or glide into the Gold Room. Want some fun exercise? Throw on the skates and go a few laps at the Cascade Fun Center. Looking for fair vibes, but don't see any in Atlanta? Ride a massive elevator to the top of Ponce City Market and live your best life at Skyline Park.
Getting Around:
While Atlanta has some great things within walking distance of each other, Atlanta is a huge city. There's a saying that Atlanta is an hour from Atlanta. Between traffic as distance, it can take some time to get to these different places. If there are things nearby each other, grab a scooter you'll see laying around and cruise to your next activity. Wanting to go a little further, pull up Uber or Lyft and you'll easily find a ride within minutes. Needing to get to and from the airport? Many hotels offer shuttles, so be sure to ask your hotel about their options and availability!
Atlanta lacks for nothing whether it's a friends, family, girls, guys, or solo trip. Use Una to plan your perfect trip!