Labor Day Weekend in the Adirondack Mountains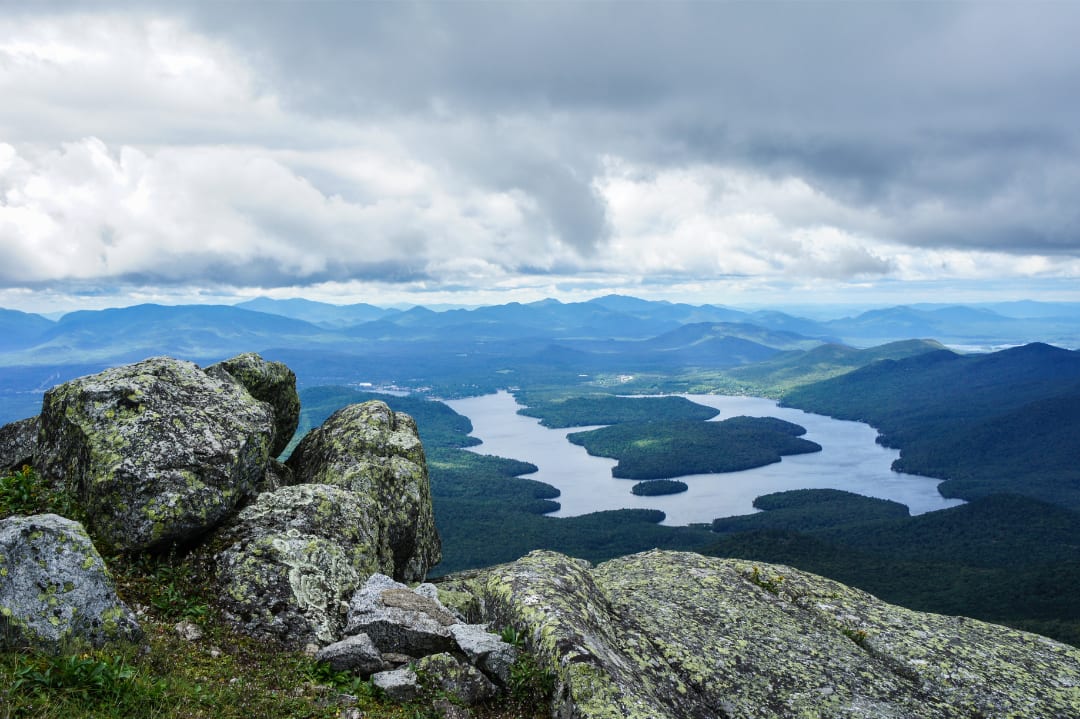 View of Lake Placid From Whiteface Mountain, Adirondacks – Credit: ABrian_L from Getty Images
The Adirondack Mountains is a large mountain range in upstate New York that is a popular road trip destination for residents of New York, Vermont, Canada, or other surrounding states. This park is filled with hundreds of small towns and historic villages for you to discover as well as a multitude of different outdoor recreations and landmarks to keep you busy! Grab some friends, pack your hiking boots, and get ready to satisfy your wanderlust with this outdoorsy Labor Day weekend trip!
FRIDAY
Long Lake is the first stop, specifically at Helms Aero Services where you can call to book a seaplane flight. This small plane takes you on a personal tour over Long Lake, giving a good preview of the scenery you'll explore over the upcoming days. After your aerial tour of the region, you can take a boat ride at the Long Lake Marina. They offer all types of boats, kayaks, and canoes.
Long Lake is the perfect place to start your trip because you can experience the area from air, water, and land. At Northville Placid Trail: Long Lake to Lake Placid you can hike the high peaks trail. This whole trail is 61 km and would eventually take you to Lake Placid, so you can just hike the trail that stays within the vicinity of Long Lake.
The next stop on the list is Tupper Lake where you can stop for some food at Well Dressed Food. Their menus are inspired by seasonal local products so you can enjoy their weekly in-house specials.
After your late lunch you can head to The Wild Center nearby. This natural history museum is one of the top attractions of Adirondack Park. Their bird's eye view treetop trail and observatory deck will bring you a new perspective on nature.

You can't miss the local breweries while you're in the Adirondacks. Raquette River Brewing operates on a small scale, which allows them to experiment and innovate with local and exotic ingredients. For example, their "Maple Cream Porter" is brewed with the maple syrup directly from The Wild Center!,
LODGING

For the night, you'll have to drive up to Saranac Lake where you will start your day off tomorrow. You can spend your first two nights at Best Western Saranac Lake, conveniently priced and located. It even overlooks the Lake Flower and is close to Lake Placid.
SATURDAY
Adirondack Lakes & Trails Outfitters will be your first stop Saturday morning where you can go boating or paddling at Lake Flower. Whether you are a beginner or a skilled paddler, this one-stop, full-service outdoor shop will have you covered on equipment and instructions.
Then for lunch head to McKenzie's Grille, which is located inside the Best Western hotel. This local business serves lunch after 11am and breakfast all day.
The Adirondack Park is rich with many different lakes of all sizes. Oseetah Lake has a good hiking trail that is flat and very easy for walking while admiring the serene waters. From here you can hike over to Scarface Mountain, one of the six mountains around Saranac Lake. Its trails are also fairly flat, leading to views overlooking Osteeah Lake. The trek to the summit is optional as it is fairly long and also does not have a cleared region for an open view.
Tail O' the Pup will satisfy your appetite after a long day of hiking with their fresh seafood and BBQ. They are said to have the best barbeque in the Adirondacks so come and check it out for yourselves!
After dinner, take a light stroll at the Jackrabbit Trail to McKenzie Pond and then head back to the Best Western for the night.
SUNDAY
Take it slow Sunday morning, driving from Saranac Lake east to Mirror Lake where you can catch lunch at Black Bear Restaurant. They offer a wide array of traditional cuisine such as steak, seafood or pasta. Enjoy your lunch with the lakeside view!
Mirror Lake offers more than just a pretty outside view. If you walk the Mirror Lake Loop you'll be able to admire the beauty up close and see how this lake got its name.
Lake Placid is one of those towns that are filled with cute local shops. Cocoa & Dough Co. is Lake Placid's only donut AND hotdog shop. Support some small businesses and get a taste for the local town's culture!
Lastly, don't forget to visit the Lake Placid Pub & Brewery. This brewery is no doubt one of the staple landmarks of the area and it's hard to miss! Give their award-winning beers a try, or try them all!
LODGING
For Sunday night, you can stay right in the heart of Lake Placid at the Crowne Plaza Lake Placid Resort. If you're looking for a peaceful evening, this resort has all the tools and views for you to relax from jacuzzis to fireplaces.,
MONDAY
Your Monday adventure starts at Whiteface Mountain Trail past Lake Placid and Connery Pond. Whiteface Mountain is the fifth-highest mountain in New York and is one of the 46 High Peaks of the Adirondack 46. As you come back down the peak you can even stop by the dock in Lake Placid and cool down in the waters.
If the Whiteface Mountain trail wasn't enough for you, High Falls Gorge will take you on the most breathtaking 30 minute hike. It is a privately owned nature park, but it displays four of the Adirondack waterfalls and is beautiful for photographs. They even have their own cafe if you are hungry, River View Cafe at High Falls Gorge.
You can take advantage of the Cloudsplitter Gondola with a 15-minute ride through the mountain range. You'll be able to see all the lakes, villages, and peaks from here!
For dinner, visit The Hungry Trout for a cozy rustic fine dining experience with a unique Adirondack flair! Then end the night at the popular, must-visit local ice cream shop, Whitebrook Dairy Bar.

Una is the most visual, efficient and unified way to plan travel!