A Weekend Exploration of Kauai, HI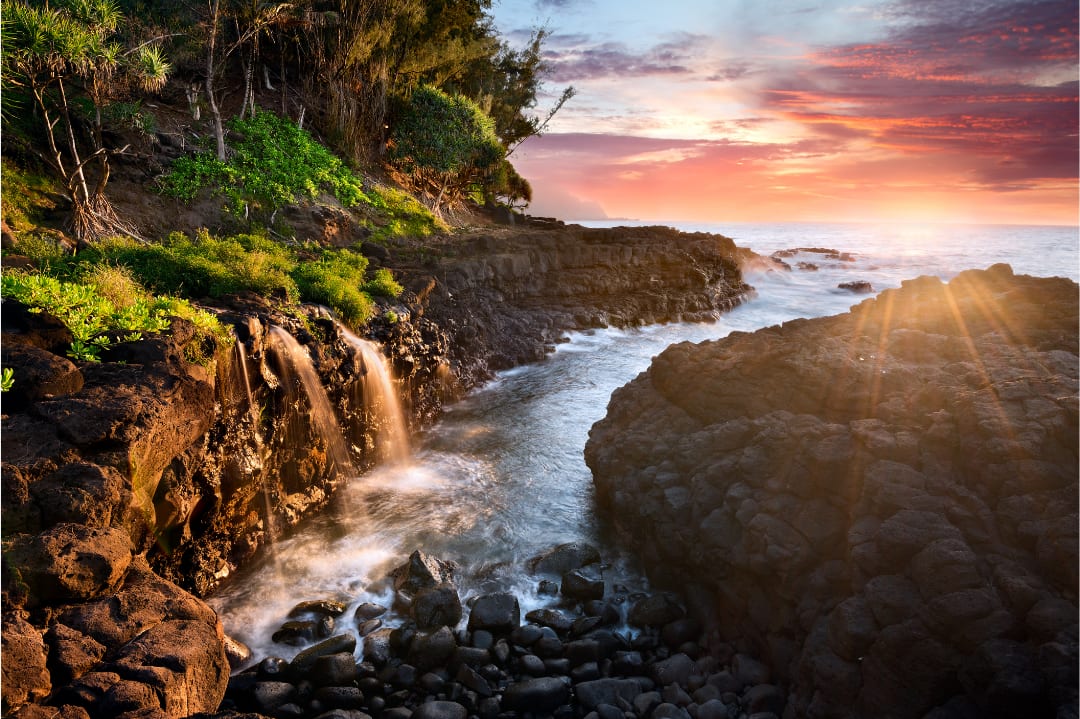 Queen's Bath at Sunset – Credit: Adam-Springer from Getty Images Pro
Kauai is the oldest and fourth largest island of the Hawaiian archipelago. It is nicknamed the "Garden Island " due to its tropical rainforests and dramatic nature landmarks. If you are visiting Oahu or even just island hopping, Kauai is a great island to spend a weekend exploring. We've put together an action-packed itinerary for you to see Kauai's full beauty so grab a travel partner and hit the road!
SATURDAY
To optimize your time on this island, start at the northern region of the island, starting with Maninholo Dry Cave. This cave is one of many in the area but is known for the evil spirits said to be surrounding the cave.
The caves in this region are also conveniently located near a few beach parks. You can drive to the small town of Hanalei where there is an organic bakery and coffee house. Hanalei Bread Company serves fresh bread, pastries, and coffee. Opt for an avocado toast or apple ricotta toast at this open-air café. After a hearty breakfast, head for Hanalei Bay Beach. Take a walk along the pier or jump in for a refreshing morning swim. If you are looking to learn how to surf or paddle board this is the spot!
You could spend the whole day at this beach but Hanalei is a beautiful town with so much more to explore. Its most popular lookout point is at Hanalei Valley Lookout where you can get a panoramic view of the valley and hills. Then stop by The Spot North Shore for a pick me up smoothie or acai bowl, a Hawaii specialty made with nutritious fruits and superfoods.
Next, admire the unique tide pool known as King's Bath or Queen's Bath. This sinkhole can be deadly so take caution when admiring the waves, rocks, and waters.
Finally, enjoy a delicious Hawaiin lunch at Pono Market with plenty of authentic entrees and fresh poké to choose from.
By midday to early afternoon you should now be on the east coast of the island. To explore this region you can rent kayaks or book a river tour of the Wailua River at Kayak Kauai. Once you start moving inland towards the Keahua Arboretum, you'll notice a change in scenery from warm beachy waves to cool mountains and open grass fields. The arboretum is also filled with many native plants and trees. As you trek further into the mountains, follow the Kauai Tunnel Trail that leads you to Waialeale Blue Hole Falls Trail. These forests provide a spectacular view of Mount Waialeale.
After a long afternoon hike through the inner heart of Kauai, you can start to make your way to the south shore via the scenic route that passes through Maluhia Road Tree Tunnel. Keoki's Paradise welcomes you with open-air dining, tropical surroundings and live Hula on most nights. While you're here, venture out and try their Hula Pie, a very special original dessert.
LODGING
Kiahuna Plantation Resort Kauai by Outrigger houses charming, cottage-style vacation condos with different room styles for you to choose from.
SUNDAY
The resort, located on the south shore, is very close to Kauai's most popular beach. Poipu Beach serves as a great starting point for your Sunday adventures. The golden sand and natural ocean waves make for a fun and relaxing Sunday morning.
Then pick up a coffee and breakfast meal at Kalaheo Cafe and Coffee Company to kick-start your day traveling to the island's western coast.
Don't miss the historic suspension bridge along the way, Hanapepe Swinging Bridge! Another popular tourist attraction is the Red Dirt Waterfall where the red dirt looks almost martian-like! The underlying volcanic rock is what makes this terrain so unique.
As you drive up to the Kokee State Park you can opt to stop at the Kokee Lodge for a bite to eat before exploring the rest of the park and its hiking trails.
Una is your personal canvas for trip planning!