4-Day Camping Trip in Mount Hood, OR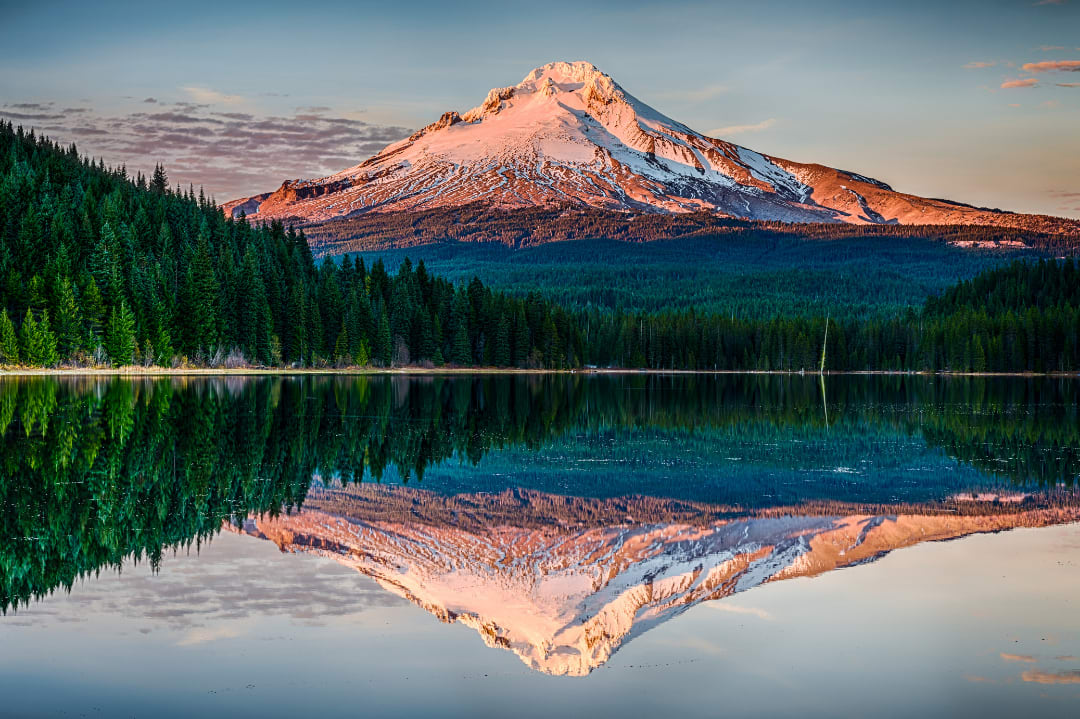 Mount Hood – Credit: Ian Stotesbury from Getty Images
The Mount Hood and Willamette National Forests are hiking-rich regions in Oregon, making it the perfect camping destination for adventurers. Start at Mount Hood, a convenient 2 hour drive from Portland, and make your way a few hours down south to Willamette, located between the cities of Bend and Eugene. Over these four days you can reconnect with your roots and explore the regions of two national forests. Whether you're from local Oregon or the surrounding states, Mount Hood and Willamette display the best of Oregon's roaring rivers, winding waterfalls, and fascinating forests.
THURSDAY
Tamanawas Falls is a trail located inside the Mount Hood National Forest. It provides beautiful waterfalls and serves as a perfect warm-up trail for your trip. Mount Hood is also home to Mt. Hood Adventure Park, one of the hottest summer destinations in the region. It attracts all sorts of visitors with its kids play zone, scenic views, and adventure options. Come ready for a fun, adrenaline-filled day!
LODGING
The Adventure Park also has many convenient campgrounds surrounding the base of the mountain, like Little Crater Lake Campground. This campground gets its name from the beautiful Little Crater Lake nearby. This lake, along with the surrounding forest and waters, makes it one of the most scenic spots in Mt. Hood.
FRIDAY
The next few days will be very nature-centered and hiking focused so make sure you bring enough food to last you throughout the day! Like yesterday, you can start off your day with a light trail at Little Zigzag Falls. This hidden gem promises spectacular waterfall views in exchange for a light easy hike.
Next, move up a level to a moderately-paced hike, Mirror Lake Trail. If you're curious as to how this lake got its name then you'll surely appreciate the glacial cirque lake at the beginning of the trail. Throughout the entire trail, you will also have plenty of chances to admire the tall peaks of Mt. Hood.
After staying at the Little Crater Lake Campground, it only makes sense to hike the Little Crater Lake Trail to Meditation Point. If you are a big hiking enthusiast, you can opt to hike the whole 7.8 mile trail up to Meditation Point. Otherwise, you can just discover the Litter Crater Lake region that doubles as a viewpoint of Mount Hood and possibly Mount Rainier on a good day.
Oregon has no shortage of lakes, but each lake is unique in its own way and just waiting to be discovered. The Headwater Loop Trail is home to Clackamas Lake and Timothy Lake where you can hike the entire loop through Headwater Trail, Miller Trail, and PCT Loop. Alternatively, you can take the shortened 2.5 mile path directly to Timothy Lake. During the summer season, this area is abundant in huckleberries, ripe for picking.
LODGING
There is a close campground that sits at the shores of Timothy Lake, Hoodview Campgrounds. Spend a relaxing evening enjoying the still waters that make up the largest body of water in the Mt. Hood National Forest. Prepare for tomorrow morning's drive down to the Willamette National Forest.
SATURDAY
Early Saturday morning, leave Mount Hood for Willamette National Forest. Venture out to the 3.4 mile Clear Lake via McKenzie River Trail, which are the starting headwaters of the McKenzie River. Since the McKenzie River trail is 26 miles long, many people choose to start at Clear Lake and admire its beauty along the way. Walk along the McKenzie River National Recreational Trail: Clear Lake to Trail Bridge and witness lava fields, old-growth forests and sparkling waters all on one trail
Continue along the Mckenzie River until you reach the Sahalie Falls, Koosah, and Tamolitch Falls via McKenzie River Trail. Sahalie Falls is a real Oregon treasure. Its stunning waterfalls and bright blue pool paired with the encompassing forest make you feel one with nature. If you're feeling daring, take a dip into the Tamolitch Blue Pool via McKenzie River Trail.
LODGING
After a long day of hiking, you can relax at Big Lake Campground. Take advantage of this hidden gem that's smaller and quieter than the larger campground across the lake. Here you'll have full access to the lake and a full view of Mt. Washington. Encompassed by all varieties of green and centered around Big Lake, enjoy a peaceful evening under the night sky.
SUNDAY
Take a fun Sunday morning adventure down at the Horsepasture Mountain Trail. You'll run across some wild flowers and potential animal sightings. At the top, the beautiful views of the cone-shaped Three Sisters mountain range make this stop worthwhile.
Visit the Terwilliger Hot Springs next, where water meets rock in 6 hot spring pools also known as Cougar Hot Springs. With the past few days of constant excursions, a relaxing hot pool in the deep forest is the perfect way to unwind and refresh for the new week. These hot springs may have sporadic unexpected closures due to wildfires or rockslides. Before you visit, check their website for an update in case of detours. Salt Creek Falls is the last stop before you head back for home. Make sure to view this magnificent waterfall from the base as well as the top. This huge waterfall is a popular spot for photoshoots and will be sure to leave a lasting impression on you.
Una is the most visual, efficient and unified way to plan travel!