A Weekend in Myrtle Beach, SC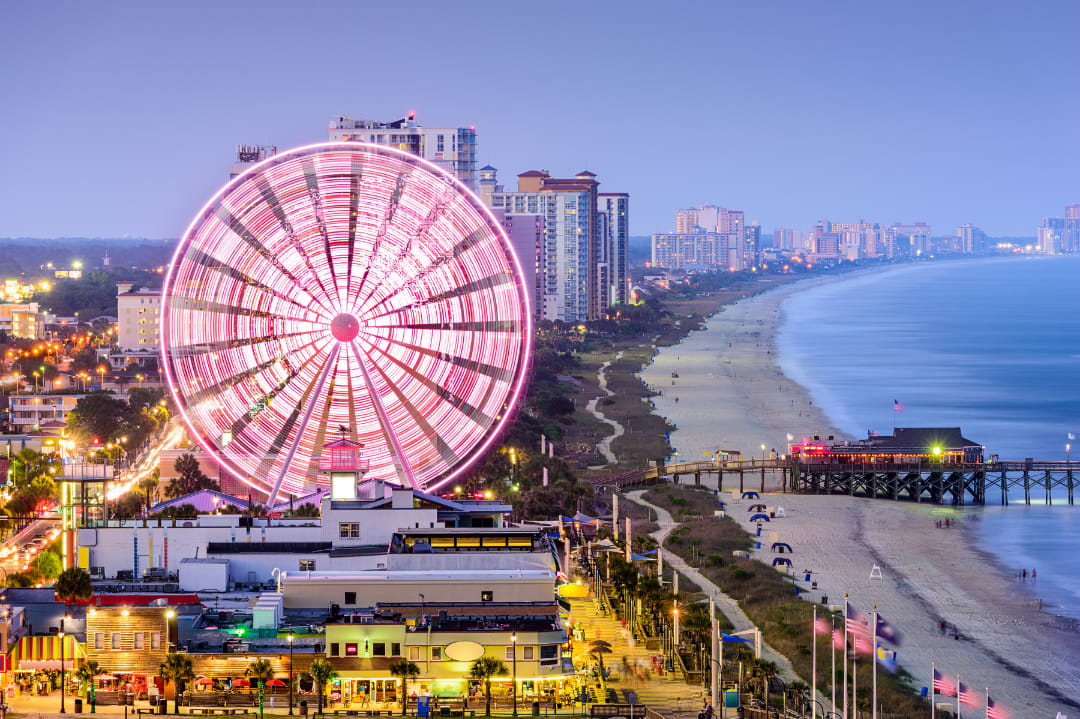 Myrtle Beach Skyline – Credit: SeanPavonePhoto from Getty Images Pro
Myrtle Beach is a warm Southern coastal city with gorgeous sunrises and spectacular views over the Atlantic Ocean. It may not be as well-known as Miami Beach, but that in it of itself is a charm. Enjoy a relaxing weekend with your family or small group of friends discovering the 60-mile coastline and natural wonders that make up Myrtle Beach.
SATURDAY
If you're driving from a further distance you might consider booking your lodging for Friday night. After a good night's rest you can spend your Saturday morning at the City of Myrtle Beach. Soak in the sun and take a walk down Myrtle Beach Boardwalk. Explore the local gift shops, fun candy stores, or the SkyWheel Ferris wheel.
The boardwalk has no shortage of good eats, with restaurants like Simply Southern Smokehouse that bring you delicious homemade Southern meals with a side of Southern hospitality. From biscuits and cornbread to collard greens and fried chicken, they will be sure to satisfy your cravings!
Next, satisfy your adventure cravings with Gator Bait Adventure Tours. This local small business offers kayaks to rent and personalized adventure tours for your small group or family.
Depending on the tour you booked, you may have time in the late afternoon to rent bikes from Pedego Bikes. Ride down to the Myrtle Beach State Park because this coastline makes for a picturesque sunset and ocean view.
Before the pandemic hit, The Boathouse Waterway Bar & Grill was the "it" scene to be at, with live music and in-house craft brews. Recently, it's slowly been bringing back the live bands and organizing their outdoor bar to accommodate for Covid-friendly entertaining and dining. Try one of their in-house craft beers paired with the Fire Cracker Shrimp appetizer. Feel free to stay and watch the passing boats and waterway view. Or take a walk down the Myrtle Beach Path before heading back to your cottage for the night.
SUNDAY
The coast of Myrtle Beach is teeming with life. If you wake up early in the morning on Sunday, you'll be able to see for yourself while fishing at The Marshwalk of Murrell's Inlet, however you will need a license to fish at the pier. If you want to book a fishing charter you can go to the nearby Murrell's Inlet Outpost. They have all the bait and fishing materials you need and allow you to choose if you want an inshore or offshore fishing experience.
For lunch, you can go to The Grilled Cheese & Crab Cake Co, famous for their seafood sandwiches and crab cakes. While you're in this area, the Garden City Beach Walk is a nice long stretch of beach, home to plenty of starfish, crabs, and birds. This beach walk is not as crowded as other beaches. Here, people frequently just walk from pier to pier, admiring the wildlife.
If you need an afternoon pick-me-up coffee, Benjamin's Bakery has all the freshly baked bread, pastries, and roasted in-house coffee you may desire.
Discover everything Surfside Beach has to offer from family friendly activities to wild water parks. Play a game of beach volleyball or tennis, it's all about family and fun at this beach.
Then, try some of the Italian seafood dishes at The Original Valentino Italian Restaurant for dinner. You can opt to get dessert at the restaurant such as Italian Cheesecake, or you can head to the nearby Ole Fashion Ice Cream Parlor to sweeten the night. Contrasting the classy Valentino restaurant, this ice cream parlor is simple and styled with 1950s-themed memorabilia. Their creative ice cream flavors and sundaes will be sure to leave you with a lasting memory of Myrtle Beach!
Find, plan, and dream up your next travel adventure with Una!