A Weekend to Remember in Colorado Springs, CO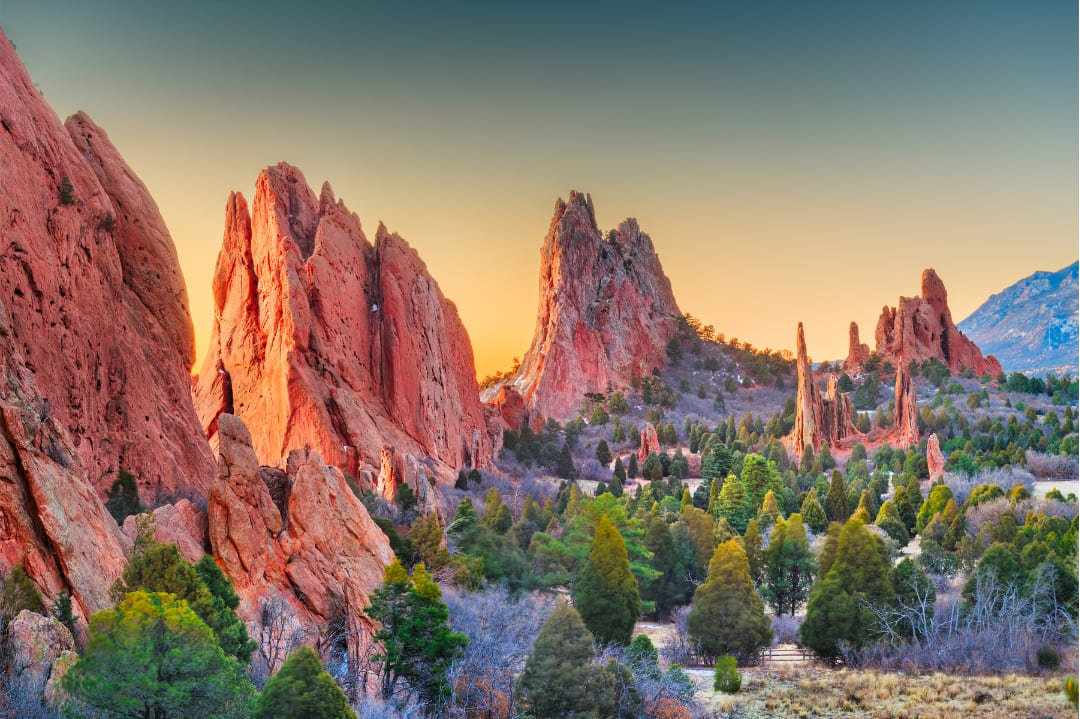 Garden of the Gods, Colorado Springs, Colorado – Credit: Sean Pavone from Getty Images
Colorado Springs has some of the most gorgeous landscapes in not just Colorado but the entire United States. Being located at the foot of the Rocky Mountains, it competes with some pretty impressive features, but it holds its own unique character. Pack your hiking boots and camera, and let nature sweep you away this weekend at Colorado Springs!
FRIDAY
This weekend consists of a lot of outdoor adventures and tours, so make sure to pack some sandwiches, snacks and other energy bars. If you're unable to however, most places will have their own courtyard café that sells fast and convenient food for the hungry explorer. Start out your morning at the Cave of the Winds Mountain Park where you can book a cave tour of your choice ahead of time, or buy tickets for a mountain experience of climbing or zip lining. If you're bringing kids on the trip, you'll be happy to know they also have plenty of rides and activities specifically made for children!
Next, head over to Manitou Cliff Dwellings, a historical museum that allows you a glimpse into the fascinating architecture and culture of the Native Americans who once resided here. The cliff dwellings overlook a beautiful view of the historic town of Manitou Springs. Here you can buy souvenirs and visit the local shops such as Pikes Peak Chocolate or Goldminers Nuts & Candy
When you're ready, you can head to Mona Lisa Fondue Restaurant for a classy fondue dinner with outdoor seating. Their seasonal options and 4-course dinner meal truly make for a unique dining experience.
LODGING
The Best Western Plus Executive Residency Fillmore Inn has a great central location for all your weekend activities. Plus it has new facilities and a multitude of complementary amenities you'll be sure to enjoy.
SATURDAY
When in Colorado, be prepared to wake up early for a nice morning hike. You can choose the Roundup Trail for an all-encompassing trip around the Red Rock Canyon Open Space. Enjoy the pine thickets and various birds and wildlife along the path.
It's hard to pick a star landmark for this weekend trip, but Garden of the Gods is definitely one of the top destinations in Colorado Springs. Enjoy climbing, self-guided tours, adventure programs and more!
Colorado Springs is known for its beautiful landscapes but its food scene is also worth the venture. For a late lunch, Urban Steam offers original Colorado Springs craft coffee and delicious takes on classic brunch items, so come hungry!
If the adventure spirit in you is still thirsting for more scenery and adrenaline, then The Broadmoor Soaring Adventure is sure to give you that boost of adrenaline. Choose from their 10 different zip line courses and see the waterfalls from a gorgeous bird's eye view. Then, you can explore more of the The Broadmoor Seven Falls, this time through the view of a hiker to observe "the grandest mile of scenery in Colorado."
For dinner, head to Heart of Jerusalem Café, a restaurant serving genuine middle eastern cuisine. The Ultimate Plate is a dish you can't go wrong with!
SUNDAY
Pikes Peak is the 2nd most visited peak in the world after Mt. Fiji. Get up early to take the cog tour railway up to the top so you can take in the fresh mountain air and lush green scenery.
After the tour you can hit Good Karma Café for a nice Sunday brunch where you can enjoy a good spicy chai iced latte and good food at the base of the mountain.
Rainbow Falls is not as spectacular as Seven Falls, but still has its charm. It's hidden beneath a bridge but its graffiti walls show just how many people have visited the falls area.
Finish your trip off at Colorado Custard Company with a cup of fresh frozen custard or a specialty Pikes Peak or Red Rocks banana split.
Your personalized adventure planner awaits with Una!