Una is adding route optimization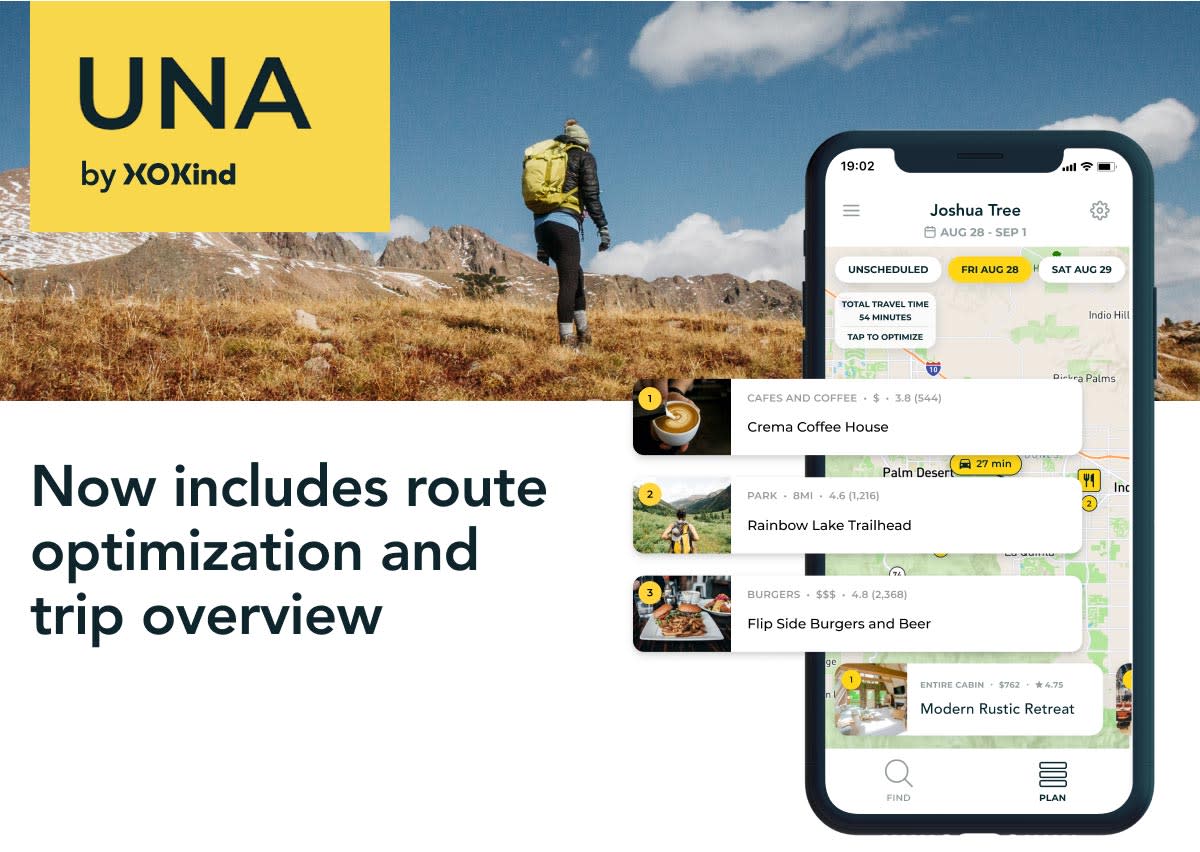 In our second public release, we have added exciting new features to enable increased customization and efficiency in building your perfect trip. You can add stops to your trip and Una can now reorder them to minimize driving time (plus save you gas money!) We hope this feature will increase the time you enjoy at your destination with your loved ones! Download Una on App Store and Google Play Store.
As travel restrictions begin to lift and interest in travel destinations for the spring and summer increases, you can use Una as your personal canvas for trip planning and dreaming. You will find options that match your preferences for lodging, food and activities faster with personalized suggestions in Una's "for you" carousel and curated search results. We've found that Una has made it a breeze to take spontaneous trips as it feels like having a personal travel concierge in our pockets.
What's new in Una's second public release (v1.6):
Optimize the routes of your daily plans (pick your starting point and let Una do the rest)
Filters for food & drink establishments, vacation rentals and hotels
Create a trip overview with tags, links, a unique name and description — a great place to share info with your co-travelers
Add a note to any stop to share info with your group or keep track of the finer points
New "Trips" tab in the navigation bar is your place to see the trips you're planning, and in the future will be a source of curated and public itineraries to use as inspiration.
In case you're new to Una, here are some highlights from our past releases:
Explore safer travel options including: outdoor activities (hiking, landmarks, paddling, parks and more); restaurants offering outdoor seating, takeout and delivery; and hotels, vacation rentals and campgrounds.
Powerful mapping tools: explore search results on a map to gauge the distance to your trip stops, and view your daily itinerary on a map with estimated driving times.
Una pulls together information from a variety of trusted sources, starting with partners like Yelp and HotelBeds, and online hiking and vacation rental websites.
Add your own custom stop, like a friend's house or a trailhead.
The "For You" carousel offers suggested stops based on your likes and frequently visited trip stops.
In the "For You" map, designate a stop on your trip to be an "anchor location" and get personalized recommendations for what to do, see or eat nearby.
Hike search: Search for hikes in your own words and find the perfect trail for your group.
Collaboration: Send your collaborator an invite to join your trip and plan it together.
If you love using Una or have feedback on how to improve the product, please email us at beta@xokind.com. We'd love to hear from you! And thank you for supporting us as always.