Weekend trip to the DC area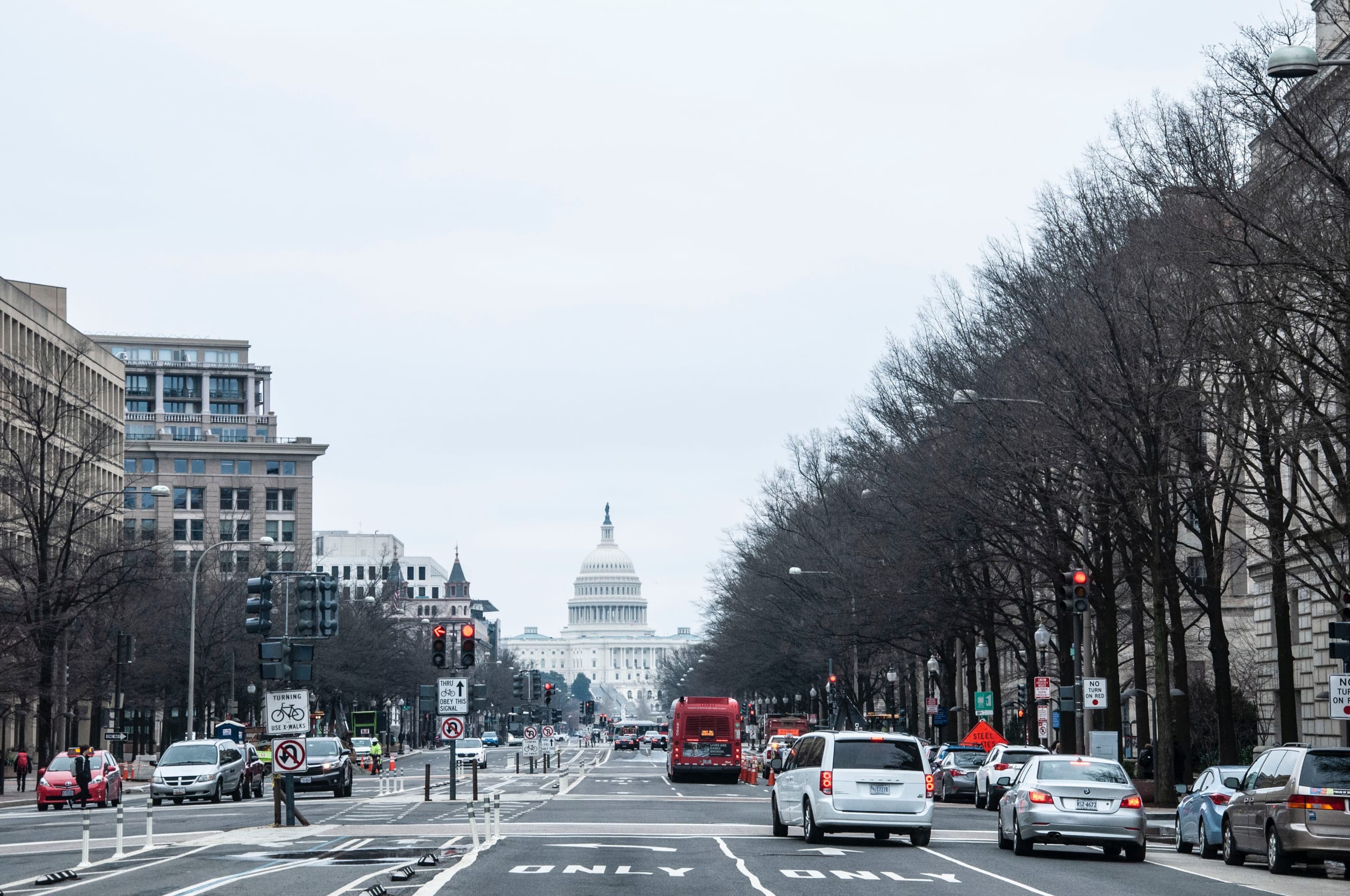 Day 1
A trip to the nation's capital is a pilgrimage of sorts for those interested in US history. Whether you're visiting DC for the first time or after a long gap, the National Mall area is a sensible starting point for an exploration of the region. However, even for those who aren't history buffs it is easy to spend several hours visiting the iconic landmarks in this area, so before embarking on a walking or biking tour of this area it's best to grab breakfast/brunch beforehand.
Founding Farmers on Pennsylvania Avenue is a popular co-op owned American eatery that's immensely popular for brunch with locals and visitors alike. It's quite likely that the place will be packed on a weekend, but there's ample seating and the efficient staff are used to handling large crowds. Anytime I've been to Founding Farmers in DC on a weekend I've never had to wait for longer than 15 minutes to get a seat. The farm-to-table food always tastes fresh and the ambience is great, so it's well worth the wait.
After brunch, a short 15 minute walk will get you to the National Mall, or if you prefer, you can hop on the DC metro and get there in just as long. The Mall, which is one of America's most visited national parks, is an approximately 2-mile long stretch of park with the Lincoln Memorial on the west end, the Capitol Building on the east end, and the Washington Monument in the middle. The White House is also only a few blocks away. If you enjoy walking or biking (you can rent from Capital Bikeshare) then by doing so along the Mall's promenades you can easily visit these iconic structures of American history, which also include the Jefferson Memorial, WWII memorial, etc. These promenades also offer some spectacular views of the Potomac river and the Northern Virginia (NoVa) skyline on the other side of the river.
Museums
If you like visiting museums, then you'll be delighted that many of the Smithsonian Museums are only a stone's throw away from the Mall and provide free admission to the public. Just the museums alone warrant a weekend trip to DC. However, if you're only in DC for a weekend and want to pack your days with as many events as possible then you can spend a few hours at the Mall with a few hours left to visit one of more of the museums before they close, typically around 5:30 pm. If you're visiting with kids, then they're sure to like the Natural History museum, and the Air and Space museum. And if they haven't had their fill of the icons and air and space travel, then you can head over to the Air and Space Museum at the Steven F. Udvar-Hazy Center, which has a larger collection of artifacts stored in hangar-like space. However, this is a 45-minute drive away and a visit is better planned for the next day.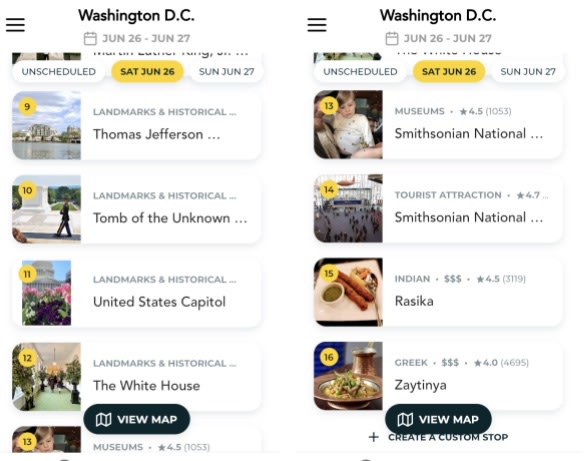 Dinner
By the time you've finished exploring the Mall and the nearby museums, you've surely worked out an appetite. Fortunately, DC has lots of options for great food. If you're in the mood for Chinese, Chinatown is only a short metro ride away. But there's also Rasika, a 4.5 plus zagat-rated Indian restaurant that's considered to be one of the best Indian restaurants in the country, and whose omission from the Michelin Guide is perceived by many as regrettable. Even if you're not one for appetizers, you simply have to try their "palak chat". And if you have a more adventurous bent of mind, culinarily speaking, then you might want to try some of the fusion items on the menu, like the chocolate samosa. The only downside to Rasika is that it's always busy, especially on weekends, and if you haven't made a reservation a few days in advance then it's unlikely that you'll find a table on short notice.
If you enjoy sampling many items however and like to be surprised by a food item cooked in a style that you're unlikely to have encountered anywhere else then Zaytinya is the place for you. The restaurant offers mezze portions of Mediterranean and fusion food that allow you to experience a variety of different delectable items.
However, if you prefer a more casual ambience where you can eat and chat with friends for a couple of hours and not feel rushed, then you can try one of the many Ethiopian restaurants on U street, such as Dukem. In addition to offering delicious food, these restaurants give off a more relaxed, cafe-style vibe.
Nightlife
If you'd like to get a taste of DC's nightlife then you could head over either to Adam's Morgan, Dupont circle, Georgetown or the U-street/Shaw area. Depending on what you're idea of fun is these places offer lots of options for bars with interesting ambience, live jazz, rock or international music, variety shows, dancing, etc.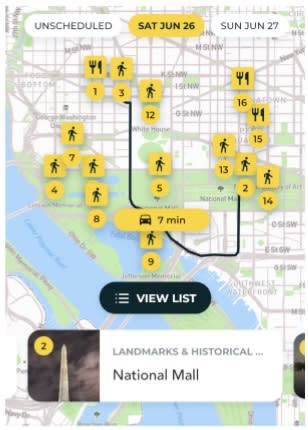 Day 2
After an event-packed Saturday, you may want to have a more relaxing Sunday to wrap up the weekend. The historic and picturesque little town of Leesburg in Virginia is a great place to visit for that. It's only an hour's drive away from DC, and it has enough leisurely activities to keep you occupied for the whole day, but without tiring you.
You can start your tour of Leesburg with brunch at Shoe's Cup and Cork, which has a scratch kitchen where every dish is made using raw and local ingredients. It also has great coffee so you can get that jolt of caffeine to start your day on a high note. The patio seating is a bonus.
After brunch you can take a short tour of the city of Leesburg, and enjoy its quaint atmosphere created by colonial era landmarks, small stores wirth artsy exteriors, narrow alleyways, etc. Then, you can head over to one of the many nearby wineries where you can easily spend a few hours sampling a wide variety of wines made from locally grown grapes (Middleburg American Viticulture Area). For extra convenience, many wineries even provide pick-up and drop-off services from DC and even private wine tours. Most of the wineries in this region have outdoor seating and large, grassy open areas that are perfect for picnic-style hangouts. Some of the most popular wineries in the area are Casanel Vineyards, Stone Tower Winery, Bluemont winery, Fabbioli cellars, and Zeppaniah Farm Vineyard. These places have food pairings with the wine so in planning to spend your day at one of these wineries you don't have to worry about making additional arrangements for lunch.
You can end the day by heading back into the town of Leesburg and eating at one of the many great restaurants on King Street. If you like seafood, then you should definitely go to King Street Oyster Bar. But if seafood is not your thing, then SideBar is a great place for the food, drinks, and the ambience. However, if you're more in the mood for some quick tacos then you should definitely check out Senor Ramon's Taqueria, which has a large variety of delicious street-style tacos made with antique recipes and fresh ingredients.
Make your trip planning fun and delightful with a little help from AI using Una!