4 Days in the Seattle Summer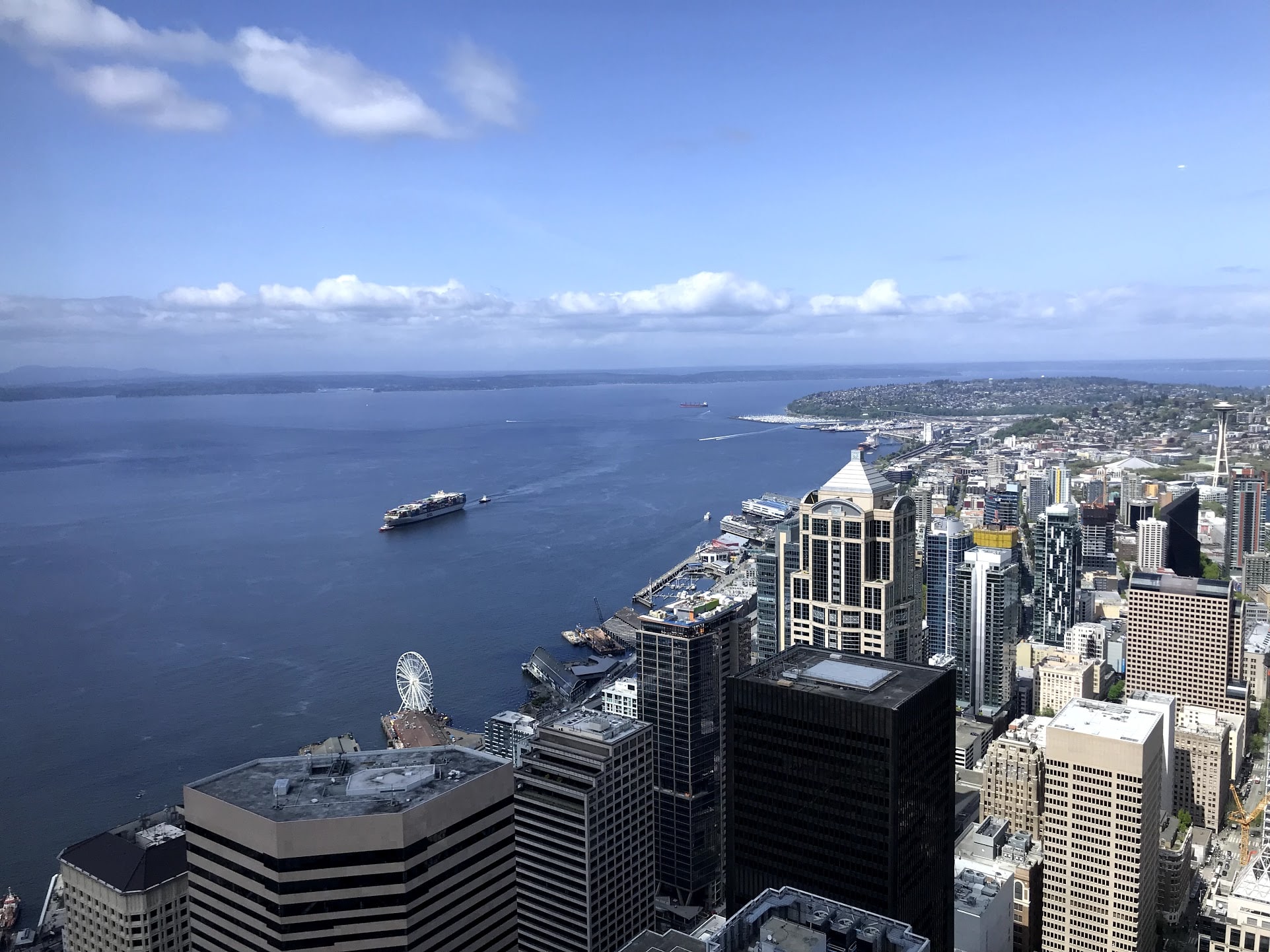 The best time to visit Seattle is during the summer months, when the weather is nice and the city is not as crowded. The summer months are also a great time to visit Seattle because of the many festivals that take place in the city. There are festivals for just about everything, including music, art, food, and beer.
Flight
Seatac airport is the most popular choice and is always busy with many restaurants. From seatac airport, you can simply take a light rail($3.00 per person) to downtown directly! Definitely a good choice if you want to avoid renting a car. However, If you prefer to avoid the hustle and bustle of an airport, we strongly recommend Paine Field airport, a small domestic airport located about 30 miles north of downtown Seattle. Going through TSA checkpoints here is quick and easy. There are often great discounts for flights to Paine Field airport, and it has become a major tourist destination with the opening of the Future of Flight Aviation Center & Boeing Tour.
Where to Stay
For downtown Seattle, Executive Inn is located in the shadow of the Space Needle with the Olympic Mountains in the background. The hotel is near the Seattle Center, the Museum of Pop Culture, Pacific Science Center, and a host of local attractions.
However, if you decide to fly into Paine Field, we recommend vacation rentals in the city of Edmonds. The City of Edmonds is 15 miles north of Seattle, provides extensive views of the water and Olympic Mountains, and easy access to four beaches and waterfront parks
Day 1
Start your day with a coffee at the world's first Starbucks in Pike Place.
Pike Place market is a great place to get fresh food and souvenirs. It's also a great place to get a bite to eat. Great place to get coffee and watch the world go by.
Beside Starbucks is the famous russian bakery Piroshky Piroshky. The salmon piroshky is my personal favorite! Protip: Piroshky often has a super crazy long line, but there is another branch at Columbia Center which is mostly empty, but the quality of the food is equally good! Another place for breakfast is Le Panier French bakery, where you can get good quality stuff.
Next, head to the gum wall. It's a wall covered in gum, and people have been sticking their gum on it for years. It's disgusting, but you have to see it. Don't forget to catch the sights of the Pike Place employee hurling the 10 pound fish while yelling sockeye as loud as he can. The chowder at Pike Place has fantastic reviews too. Another fun thing to try is the Ellenos Real Greek yoghurt. I highly recommend the lemon curd yoghurt. Don't forget to get some beecher's handmade cheese too!
Next, I recommend doing an underground tour. It's a great way to learn about the history of Seattle. The tour is a little pricey, but it's worth it and informative. Bill Speidel's underground is a popular choice, and it explains the fascinating history behind how Seattle has a hidden underground in the heart of the city. You get to learn about Seattle's role in the Yukon Gold Rush. If you are more interested in supernatural, the haunted history ghost tours of Seattle is an alternative.
Lastly, head to the Space Needle for sunset. The Space Needle is the most iconic building in Seattle and offers amazing views of the city. From here you can see the whole city, including the water, mountains and even Mt. Rainier.
Tip: Columbia Center is less well known but it is actually the tallest building in Seattle. From there, you can get a ticket to the observatory on the highest floor and have a spectacular view.
Day 2
From Seattle, drive to the famous Mount Rainier National Park. The drive is about 2.5 hours. You can do a full day hike at Mount Rainier. It was established on March 2, 1899 as the fifth national park in the United States. The park is visited by more than two million people each year. Mount Rainier National Park is open all year round. The National Park Service offers several free programs and guided hikes throughout the year.
Head back to Seattle after one long day and have a late dinner at Serious Pie. Serious Pie in Seattle is opened by Tom Douglas, who has been a pioneer in the local food scene for years. He is known for his restaurants, which are all over Seattle. The menu at Serious Pie is simple and focused. There are only a few choices, but they are all delicious. The pizza is made with fresh ingredients and the crust is perfect.
Day 3
Start a great morning with the best croissants and pastries at Cafe Besalu. This is a well known gem among the Seattle locals, and usually has a long line from 7am. The restaurant is small, but the food is big on flavor, and it has a rustic feel with wooden tables and chairs. Many locals feel that this is truly the best bakery in the Seattle region.
Head to the Hiram M. Chittenden Locks, a series of locks that connect Lake Union with Lake Washington. The locks are open for public tours, and you can see the fish ladder, which is a series of pools that help salmon and other fish swim upstream. The locks are free to visit, and you can park for free in the lot near the locks. The locks are a great place to go for a walk, especially during the summer when you can take a boat ride through the locks.
Next, go to 8oz Burger to grab a burger and a shake. They have a variety of burgers but their signature one is the 8oz Burger – our signature burger – arugula, balsamic onions, hills bacon, beechers flagship cheddar, truffle aioli. The patties are made from naturally raised, antibiotic free, hormone free, 100% local black angus from washington state. Personally, I really love their truffled garlic fries.
Gas Works Park at Fremont has a beautiful view of the city and the bay. It's a nice place to walk around, have a picnic, go for a run or just relax and watch the sunset. The Fremont troll is nearby, and it is a huge statue of a troll under a bridge. It's a great place to get some unique photos and see some great street art. Milstead is a great place to get coffee. They have outlets and free wifi. It's located right by the Fremont Bridge, so it's a great place to stop for coffee after you've been to Gas Works Park.
If you still have time, head to the Olympic Sculpture Park. The sculpture park is a great place to see some of Seattle's best sculptures and get some great views of the city. End the day with dinner at the Pink Door. If you are lucky enough, you might experience impromptu ceiling acrobats in the middle of the evening.
Day 4
For breakfast, Lola is located at 2nd and Pike in Seattle. If you do not have enough time, at least order the doughnuts!
If you are interested in planes, visit the Future of Flight museum where you will see a lot of airplanes and get to sit in the cockpit of a Boeing 787 Dreamliner. Tour the massive Boeing assembly plant, the world's largest building by volume, and see a variety of different planes in production. This is a half a day tour, and it is half an hour drive from Seattle.
For arts lovers, go to the Chihuly Garden and Museum. This is located in the heart of downtown Seattle, and it is a combination of glass art and lush garden. The museum has an indoor gallery and an outdoor area where you can see glass art in different forms. The museum has a large collection of Chihuly's work.
Coffee lovers should definitely visit the first Starbucks Reserve Roastery and Tasting Room in the United States. It is a 15,000-square-foot facility that serves as a showcase for Starbucks' craft coffee and tea.
Techies might be interested to checkout Amazon Go in Seattle, an online grocery store with no checkout lines. Customers use the Amazon Go app to enter the store, take what they want and walk out.
End the day with a seafood dinner at Elliot's Oyster House. This restaurant is at the waterfront park, where you get a beautiful view of Elliott Bay. Seafood lovers can get oysters at a reasonable price.
Nana's Green Tea or Molly Moon's Homemade Ice Cream are great ice-cream places. Both are local favorites. The matcha-based lattes & parfaits, plus traditional Japanese sweets at Nana will make you come back for a second trip.
Make your trip planning fun and delightful with a little help from AI using Una!