6 Day Adventure in Portland, Maine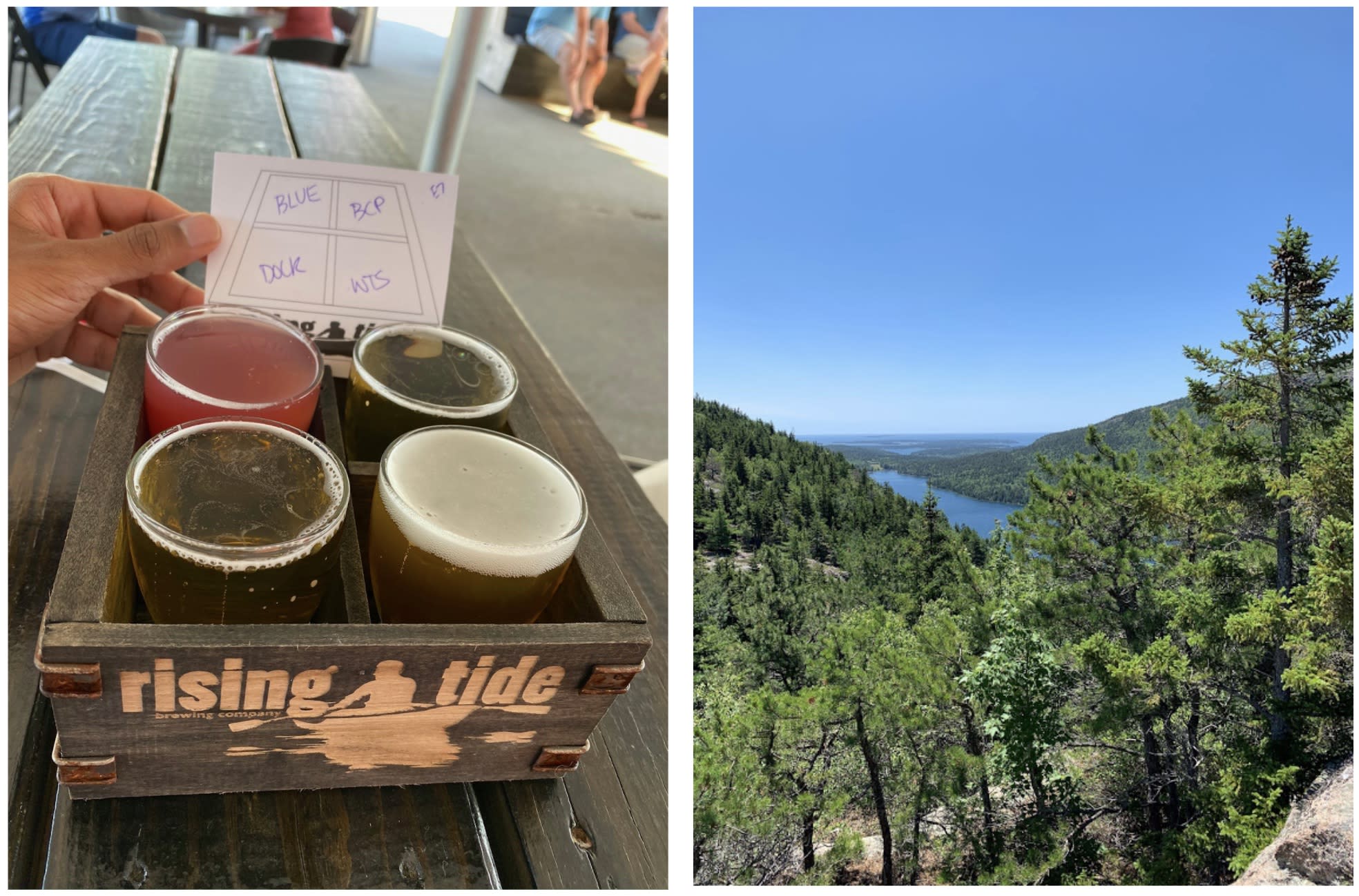 Day 1
Becky's Diner: Old school diner that's included in a lot of Portland guides. Get their blueberry pancakes.
Eastern Promenade and Western Promenade: Pleasant walks stretching along the coast on both the Eastern and Western sides of the city.
Bard Coffee: Great for coffee (or Arnold Palmers) to warm up (or cool off) after the long walks along the promenades.
Central Provisions: One of Portland's top spots for food and cocktails.
Day 2
Rose Foods: Bagel sandwiches to start your day.
Tandem Coffee: Famous Portland coffee establishment. Get their "loaded biscuit" (a biscuit with jam and butter) and any of their coffee drinks. Buy some beans to take back for your loved ones.
Portland Head Lighthouse: Best views of Portland with a variety of cliffs, beach and lighthouse shots. Bring your best camera.
Oxbow Brewing: Fun local brewery with outdoor seating.
Duckfat: Another famous Portland food establishment, known for Belgian fries, cooked in duckfat and offered with a wide selection of dips such as Thai chili and curry mayo. Their burgers and sandwiches are great too.
Day 3
Peaks Island: Take the ferry here, and then rent bikes and bike around the island. There are also food trucks near the ferry where you can grab tacos or lobster rolls for lunch.
Mount Desert Island: Popular ice cream spot, with unique local flavors (yes there's a blueberry flavor).
Sherman's bookstore: One of the oldest bookstores in Maine. Great staff recommendations.
Portland Hunt & Alpine Club: Inventive cocktails.
Rising Tide: Another fun brewery with outdoor seating and several food options. Order a flight and definitely try their blueberry sour beer.
Day 4
HiFi Donuts: Grab a donut and egg sandwich to-go for the 3-hour drive up to Bar Harbor
Acadia National Park: park at the Bubble Divide parking lot and start with the North Bubble hike and summit, followed by the Conners Nubble summit, Eagles Lake Trail and Jordan Pond Carry Trail, which then brings you back to the Bubble Divide parking lot. The whole hike takes around 3 hours (3.4 miles, medium difficulty) and gives you a great variety of views. Remember your hiking shoes because some of the trail is quite rocky and involves climbing over some boulders which can be slippery in sneakers. Then, drive around the Park Loop Road to stop at the vista points on Cadillac Mountain as well.
Side St Cafe (in Bar Harbor): good variety of carb-heavy classics (mac and cheese, quesadillas, burgers and beers) to treat yourself after a day of hiking.
Day 5
Dutch's: Excellent breakfast burritos, with hash browns and chimichurri that give them a great hearty flavor. Perfect post-hike food.
2 Fat Cats Bakery: Fresh and delicious berry pies, just a short stroll from Dutch's
Crescent Beach: Beach located next to a state park. Bring your own beach towels.
Portland Art Museum: Features art by local artists as well as pieces by Monet and Matisse.
The Wadsworth-Longfellow House: Where the renowned poet Henry Wadsworth Longfellow grew up.
Day 6
Holy Donut: Their donuts are famous for being made out of mashed potatoes, which makes them more moist. Famous for their maple bacon donuts.
Two States Park: A state park located a short drive from the Portland Head lighthouse — great for getting some more stunning views of the ocean by the cliffs.
Eventide Oyster Company: Popular spot for oysters and seafood.
Make your trip planning fun and delightful with a little help from AI using Una!